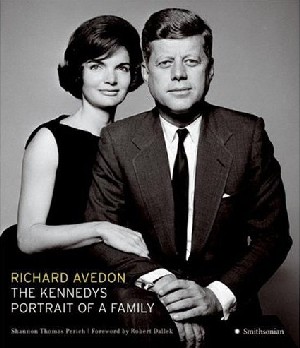 The Kennedys: Portrait of a Family
Richard Avedon, Shannon Thomas Perich
Harper Design Us
Hardcover: 128 pages
Language: English
ISBN / Barcode: 9780061138164
Subject: Photography
In the early 1960s, Richard Avedon was commissioned by Harper's Bazaar to create Observations, a column that consisted of a series of nine photographic essays. The subject of the first essay was John F. Kennedy and his young family, who sat for formal black-and-white portraits just three weeks prior to Kennedy's presidential inauguration. Six images appeared in the magazine's February 1961 issue.

That same day, Avedon created more informal color portraits of Kennedy and his family at the Kennedy compound in Palm Beach. One of these images ran as the cover of LOOK magazine's February 28 issue, with photographs by Avedon inside. Just before the magazine hit the newsstands and was delivered to over 6.5 million people, a set of photographs, comprised mostly of the LOOK images, was released by the White House and appeared in newspapers across the country.

During his lifetime, Richard Avedon donated more than two hundred images to the Smithsonian Institution, including all of the photographs of the Kennedy family sitting for Harper's Bazaar. Smithsonian curator Shannon Thomas Perich has culled more than seventy-five images from that donation for The Kennedys: Portrait of a Family, making these stunning photographs available for view for the first time. Perich's introductory essay—accompanied by a wealth of archival photographs of both Avedon and the Kennedy family—provides historical background on the two sittings within a political and cultural context and critically examines the work of one of the finest photographers of the twentieth century. A foreword by Robert Dallek, distinguished historian and author of the bet-selling An Unfinished Life: John F. Kennedy, 1917-1963, provides authoritative and compelling insight to one of the most fascinating presidents in American history.
STATO: In Commercio
€ 18.00

Print It