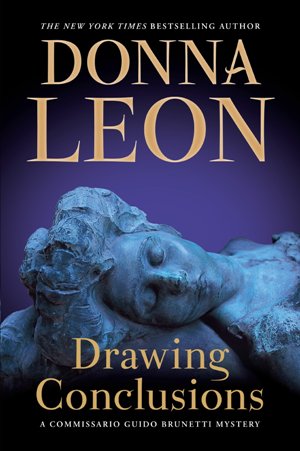 Donna Leon, Drawing Conclusions
Donna Leon
Random House UK
English
Hardcover
256 pages
Subject: Travel Venice Literature
Nearly twenty years ago, when a conductor was poisoned and the Questura sent a man to investigate, readers first met Commissario Guido Brunetti. Since 1992's Death at La Fenice, Donna Leon and her shrewd, sophisticated, and compassionate investigator have been delighting readers around the world. For her millions of fans, Leon's novels have opened a window into the private Venice of her citizens, a world of incomparable beauty, family intimacy, shocking crime, and insidious corruption. This internationally acclaimed, bestselling series is widely considered one of the best ever written, and Atlantic Monthly Press is thrilled to be publishing the twentieth installment, Drawing Conclusions, this spring.

Late one night, Brunetti is called away from dinner to investigate the death of a widow in her modest apartment. Though there are some signs of a struggle, the medical examiner rules that she died of a heart attack. It seems there is nothing for Brunetti to investigate. But he can't shake the feeling that something or someone may have triggered her heart attack, that perhaps the woman was threatened. Conversations with the woman's son, her upstairs neighbor, and the nun in charge of the old-age home where she volunteered, do little to satisfy Brunetti's nagging curiosity. With the help of Inspector Vianello and the ever-resourceful Signorina Elettra, perhaps Brunetti can get to the truth and find some measure of justice.

Insightful and emotionally powerful, Drawing Conclusions reaffirms Donna Leon's status as one of the masters of literary crime fiction.
STATO: In Commercio
€ 12.95

Print It