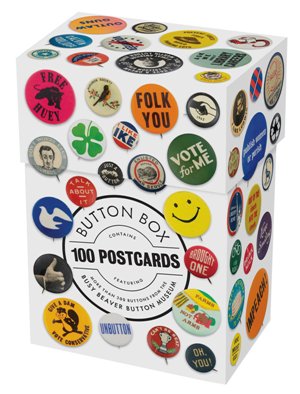 Button Box Postcards: 100 Postcards
AA.VV.
Princeton Architectural Press Abr.
English
Cards
Subject: Gift Line
100 postcards celebrate our social and political history through the delightful and eye-catching pin-back button.

The perfect gift to start a conversation—Since their invention buttons have functioned much like social media: a means to tell others what's on your mind, and a tool to help share an idea. Great for history buffs and ephemera buffs, the postcards function as collectible, art-hanging, and a fun way to discover new and surprising insights into our shared American past.

A card for everyone—Find the perfect postcard for the person you're thinking of. Send grandpa a card of old campaign buttons, your friend the "belly" button card, and the iconic smiley-face button postcard to that someone who never fails to cheer you up.

100 Postcards, Over 300 Buttons—Selected from the Busy Beaver Button Museum's collection, these colorful postcards showcase the truly versatile legacy of the humble button. Arranged in eight easy-to-view tabs, the colorful postcards offer a unique perspective on bygone decades, political campaigns, cultural artifacts, and more.
STATO: In Commercio
€ 14.50

Print It