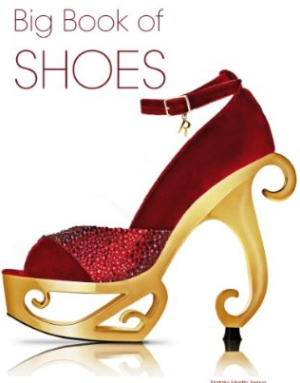 The Complete Book Of Shoes
Natalio Martin Arroyo
Firefly (Chris Lloyd)
Hardcover 600 pages
Language: English
Subject:
Contemporary shoe designs in brilliant color.

There's something about shoes. Fashionable women (and men) everywhere will tell you that the shoes make the outfit and they could never have too many in their closet. For them this book will be a very fashionable treat.

Every fashion season, designers create not only a clothing collection but also a full array of complementary footwear, sometimes working collaboratively with a shoe designer. The styles featured in Big Book of Shoes are direct from the runway. The book organizes shoes by designer, with an introductory paragraph about their work and in particular the shoes shown. Labels show the collection and season. Styles include sandals, flats, wedges, pumps, platforms, slingbacks, gravity-defying heels, boots and more.

Big Book of Shoes is like a window-shopping trip down the chicest streets of the world's fashion capitals. Large photographs display dozens of shoes in all their glory, their details vividly revealed. Hand stitches, leather grain, patent shine, suede softness. Leopard spots and alligator scales. Buckles and buttons, zippers and chain, studs and straps. Ribbons and bows. Anklets and cuffs. Fringes, feathers and fur. Silver, gold, copper, brass. Wood, acrylic, steel. The range of designs reveals the astonishing creativity and craftsmanship found at the highest levels of fashion.

This colorful book is a practical and inspirational resource for designers, students, personal stylists and wardrobe professionals. For fashionistas and shoe lovers everywhere, it is pure eye candy.
STATO: In Commercio
€ 34.50

Print It