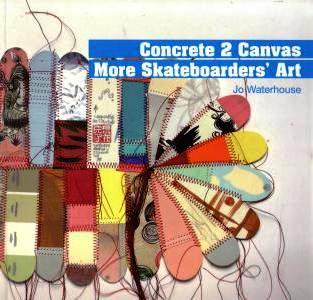 Concrete 2 Canvas
More Skateboarders' Art
Jo Waterhouse
Laurence king
Paperback 128 pages
Language: English
220x220mm
ISBN / Barcode: 9781856695312
Subject: Graphics
Bringing together the finest artwork produced by skateboarders around the world, this second volume of skater-art follows on the successful first book Concrete to Canvas.
Since the first time a graphic was hand-drawn onto a board, there has been a deep-rooted connection between skateboarding and art. The culture of skating is a very creative and visual one, with by-products such as board graphics, videos, stickers, magazines, and clothing. As more skater-artists emerge, skateboard magazines feature more artwork on their pages, and there is an increasing number of exhibitions focusing on skater-art.

Each artist's work is highly individual and distinctive, and there is a huge variety in genre, style, method, medium, subject matter, inspiration, and influence. The work featured includes digital art, street art, fine art, paintings, drawings, doodles, illustration, and installation.
STATO: In Commercio
€ 12.00

Print It